Our first night of Disney fun started off with the Happily Ever After Dinner at the Grand Floridian. This is the 2nd time we have done this dinner and I would definitely recommend it to anyone wanting a good character dining experience. It's a buffet style dinner with all sorts of options: salads, soups, meats, veggies, pastas and desserts. The kid buffets are kid height. Our girls thought it was pretty cool they could make their own plates. At this dinner you see all of the Cinderella characters. The Ugly Step-Sisters were really great. Very funny...yelling and singing (poorly) as they walked from table to table. The only con about this dinner would be that it is a little loud because you are in a huge banquet hall with a bunch of excited kids, but really...that's to be expected.
This was a fun start to our jam packed vacation!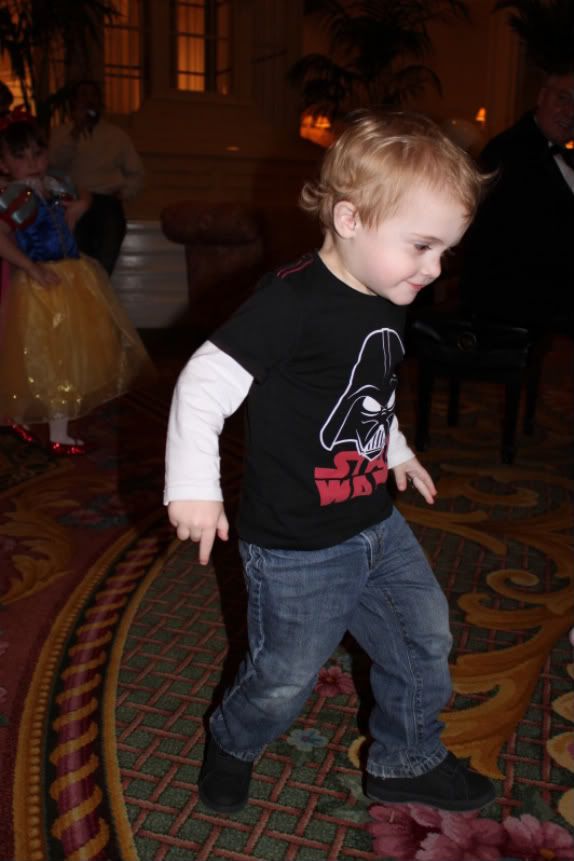 This was Bryce's first visit to Disney. He was so excited that his energy levels were off the charts. While we waited for our table he got really into dancing to the Disney tunes the piano player was performing for us. Next thing you know Bryce is "helping" the pianist play. Woops! He banged on the keys really quick and ran off with his fists pumped in the air saying, "I did it!".
Bryce's sweet dance moves attracted other kids to join in on the fun. It was so cute seeing all the little kids dance together. Bryce was being such a gentleman to this little Snow White. I have a few other cute shots of them dancing, but I love the look of concentration on his face in this one. :)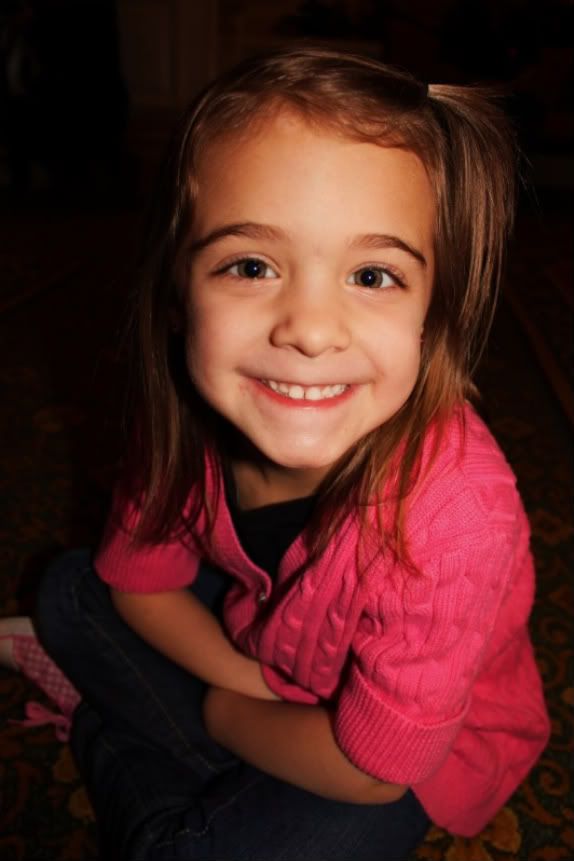 It took Jordyn a while to warm up to the dance party. She sat off observing for a while before she was ready to show off her moves.
Sydney danced for a while, but then decided she wanted to pose for pictures. She was patient while I played around with settings on my camera. Lovely little lady.

~ TIME FOR DINNER! ~
Our first visitor was Lady Tremaine. Bryce was more interesting in eating his pizza than smiling for this photo. Calories come first!!
Next up was Anastasia. She was very funny and did some singing along side her sister for us.
Drizella was next. She was living up to her Ugly Step-Sister title...clearly. ;)
The girls were very excited to see Prince Charming. As he was making his way around the room to our table they kept saying, "The prince is coming. The prince is coming!"
I had to get a photo of Bryce and the Prince. I think Bryce has him beat in looks. Don't you agree!
When Cinderella made her way to our table she walked right up and doted on Bryce. She picked him up out of the high chair and hugged him.
He loved every minute of it!
All the cuties with Cinderella.
And yes, we ended our night with cheesy photos in a carriage.
Be glad I didn't post the kissy kissy photos. ;)